Out of town + working = no posting on blog. I'll attempt to get you all caught up on our goings on.

We left town May 14th around 10 pm and set our GPS for Clearwater Beach, Florida. Mark and Rosie were attending a wedding there that weekend, so we took the opportunity to spend the weekend at the beach with them. My mom and dad were also visiting from Illinois.




We stayed at this beautiful hotel right on the beach. We all met at the hotel Friday night with enough time to check in and take a walk on the beach before sunset.




It's the rainy season in Florida, so the afternoon storms make for beautiful sunsets with the variations in colors of the clouds.




Saturday we played on the beach, played some volleyball and cooled off in the pool. There were stingrays in the water, so we had to shuffle our feet when walking in the water so as not to step on one and get stung. We also met up with the pastor and his wife that were at our church when I was a very little girl. It was great to see them again.

When Mark and Rosie were at the wedding, we took another walk along the beach at sunset. I love this picture with the "golden light."




It was a beautiful sunset too.




We caught a few drops of rain on our way back in to the hotel and then the sky let loose. It stormed for quite a while Saturday night. Thankfully the wedding, that was on the beach, had moved inside for the reception before the storm began.

On Sunday we had a late breakfast buffet at the hotel, and went for a walk up on to the bridge. Isn't this a fantastic view?




Isn't this a fantastic view? The changing color of the water is just so amazing to me. God could have made everything just one color of blue, but he didn't stop there. What an awesome creator we have!!

When we got to Orlando Sunday afternoon, Rosie's brother Ben was kind enough to take us out on the boat for a few hours. We were sprinkled on a few times and the water was a little choppy, but Ed was able to ski and Mark showed us his new wakeboarding skills.




We went to friends of Mark and Rosie's Sunday night to watch the Magic game. Matt made Ed a german chocolate cake from scratch for his birthday. I'm not a huge german chocolate cake fan, but that cake was amazing!!

Mark and Rosie took off of work on Monday. It was Ed's 51st Birthday! Nicole and Rosie are singing and dancing for joy in celebration.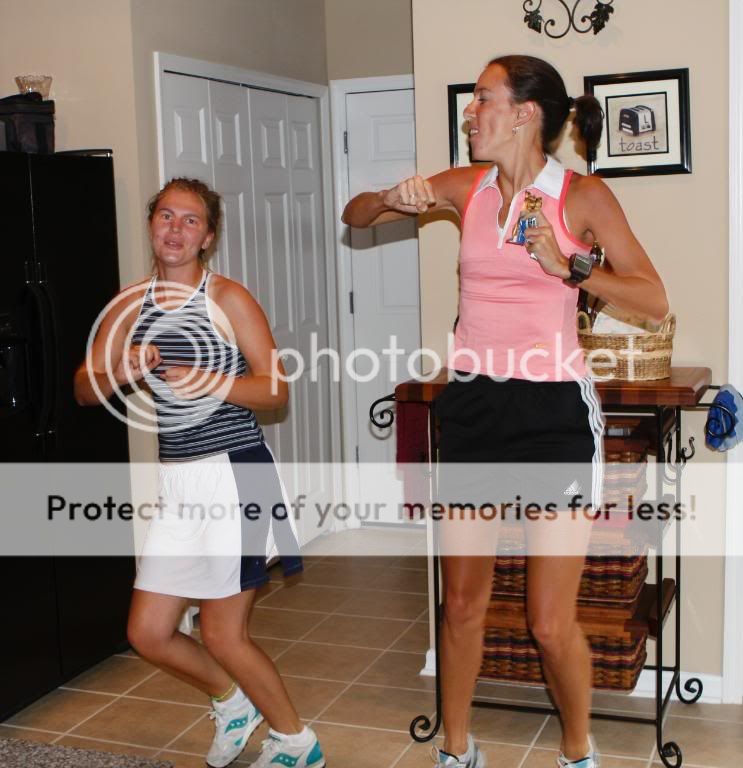 They're not really singing and dancing for Ed. Mark had the music blasting to get everyone pumped up for playing tennis - and it was only 7:30 in the morning then! Way too much energy way too early in the morning for me.




They were only able to play tennis for about 1/2 and hour before it started raining. Did I mention that it's the rainy season in Florida?
We ran for the clubhouse right before the deluge hit.




And that's the last of the sun that we saw for the rest of our visit to Florida. Usually it rains for a short time each day, but this week it just kept raining and raining and raining.

We of course had to head to Dixie Crossroads for Ed's birthday dinner. They have the best rock shrimp there.




Tuesday night a group of guys from Mark's church get together to play basketball. Ed played as well, and Courtney subbed in when they needed her.




Rosie, Nicole and I watched, chatted with the other wives, played with an adorable little girl and cheered them on.

We left Florida on Thursday morning and drove through the rain to North Carolina. We stayed overnight with some good friends from Ashton, IL. Nicole, Ed and I headed back home on Friday. Courtney left from NC on Saturday am to go to the Philippines on a medical mission's trip for 10 days. We haven't heard anything from her, so are praying all is going well for them. We are anxious to have her back home safe and sound with us.