I have some fun Easter pictures to share with you but I have put off this post. Easter is much more than just bunnies and Easter egg hunts to me, but Easter didn't seem much like Easter this year. My parents were here and the girls were home. True we were missing part of our family, but that wasn't it. We had some friends over for a non-traditional Easter lunch, which was enjoyed by all, so that wasn't it. We didn't have the "traditional" message at church or sing my favorite hymns/songs. Maybe that was part of it. We did sing "In Christ Alone...."

"There in the ground His body lay
Light of the world by darkness slain
Then bursting forth in glorious Day
Up from the grave He rose again!
And as He stands in victory
Sin's curse has lost its grip on me
For I am His and He is mine
Bought with the precious blood of Christ"

This song definitely speaks of part of the reason we celebrate this holiday, so that wasn't it. So I think I finally realized what it was. I had gone to church that morning expecting it to bless me in some way, when my whole motivation for worshipping God should be to bless HIM! I need to concentrate more on what I am giving to him and not what I think I should be receiving. When I think of the ultimate sacrifice that God made in sending his son to earth to live as a man, to show us the way to God and then to be an unblemished sacrifice for ME so that I will one day live with him forever in heaven I should be AWESTRUCK!! I can hardly wrap my mind around the fact that thousands of years ago, Jesus' death on the cross was God's plan to pay for my sins today. That he who had never sinned took on our sins and paid for them with his blood. All because he wants me (and you) to be in fellowship with him forever. If that isn't something to celebrate, I don't know what is! It's something I need to remind myself of and celebrate everyday.

Now on to the pictures. It was an absolutely beautiful day outside on Easter Sunday. After our guests had left, we decided to do our Easter egg hunt outside. Now mind you, we don't have little kids around any more. Courtney was embarrassed to hunt eggs in the front yard, so we had to limit it to the backyard.

With the girls secluded in the house, studying diligently of course, we hid the plastic treat filled eggs only in the backyard. The girls were lead to the backyard with their eyes closed.




And they are off and running.




Fighting over who found the egg first.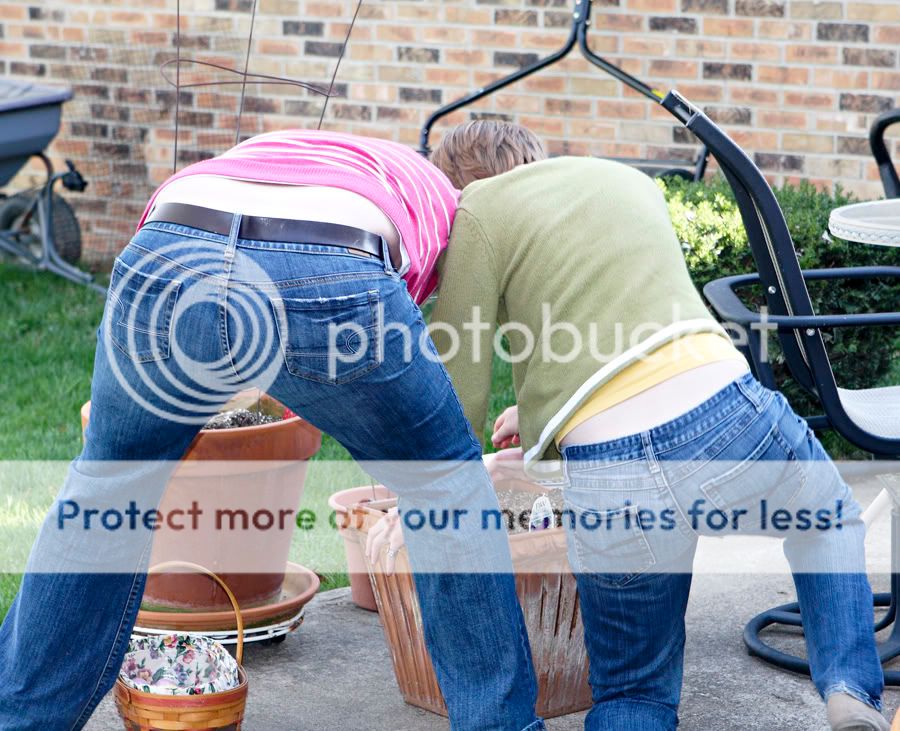 Searching high and low and walking right past eggs in plain sight.




And ending up with full baskets, lots of goodies, a little dirt...




And a lump on the side of the face.




We discovered that there were three eggs that had not been found. I gave a hint as to where they were hidden and Nicole proceeded to smash Courtney up against the brick wall while in pursuit of the remaining eggs. Thankfully Courtney did not end up with a large, colorful bruise from the incident.

A good time was had by all.