Ed had a business trip to California, so I thought it would be great to tag along. How could you go wrong going to California in January, right? I checked out some books from the library and made a trip to AAA to pick up maps, etc. We wanted to be prepared with all the options of things to do.




We flew in seperately. Ed had to book through work and we had a free ticket from Southwest Airlines. I got into LA a few hours ahead of Ed, so I got my bags and headed over to his terminal. The sun was out with big puffy white clouds as I landed. By the time Ed landed it was raining.

We checked into our hotel in Redondo Beach and headed to the pier for supper.




Lots of fresh fish there on the coast. This was one window of a shop on the pier where they sold fresh crabs. We ate at a great restaurant on the pier, Old Tony's. Ed and I tried a new soup - we had smoked salmon chowder. It was really good! We had seen the forecast before we left, so I purchased a new raincoat. Boy am I glad I did. My raincoat did a great job but Ed was soaked by the time we got back to the hotel Sunday night. (We found out later in the week that they had umbrellas at the front desk of the hotel.)

Ed didn't have to start with his meetings until Monday afternoon so we took a drive south on Pacific Coast Highway. We drove all the way to Laguna Beach.




It was raining off and on and windy, but a beautiful drive. We heard lots of reports throughout the week of mudslides and flooded roads in some of the areas we drove through on Monday.

I kept myself busy during the day reading through some books, editing pictures and driving around occassionally. Ed always ate lunch with me and we headed out to a new place each night for dinner. We had some great seafood!

Ed was done with meetings Thursday night, so we headed off on an adventure north on the Pacific Coast Highway on Friday morning.




This was our view ahead of us as we started out. We even had some hail.




The weather was off and on Friday. We stopped at a small inn and restaurant along the coast for lunch. Beautiful view as we ate.




We decided to stop for the night in Pismo Beach. We found this hotel, the Kon Tiki Inn. Beautiful view from our room.




The rain cleared off for us by sunset, so we took a walk along the beach.




This is looking up from the beach to the hotel. There were four rooms on the fourth floor that you can see in this picture.

Just to the north of the hotel along the coast.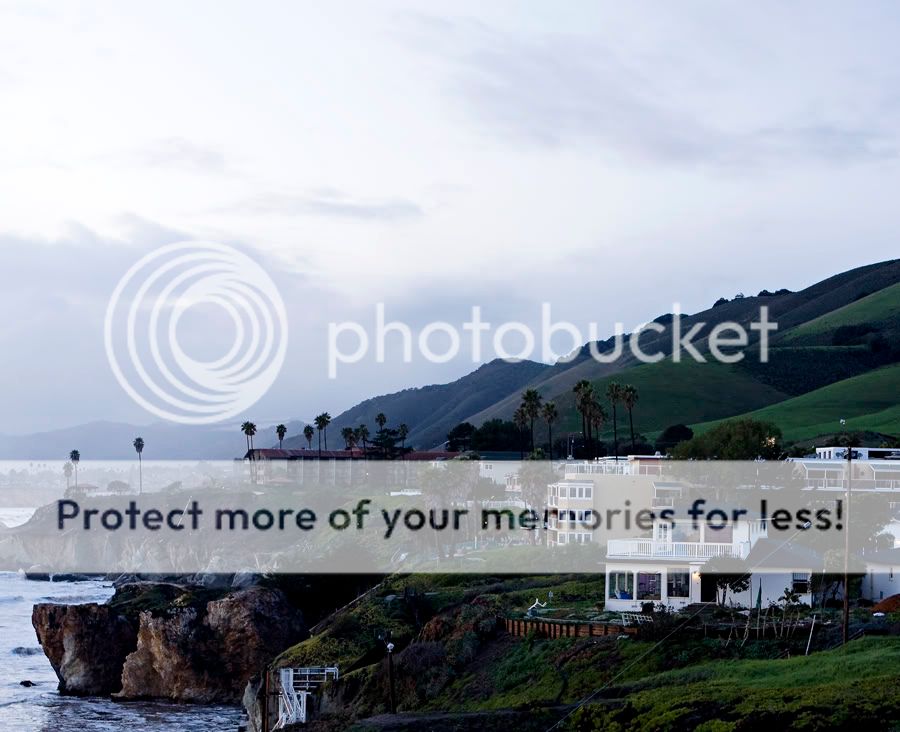 The next morning we woke up to this...




So of course we had to take another walk along the beach on on the pier.




A surfer just off of the pier.




Our hotel.




And got our exercise walking back up to the hotel.




Our trip north on the Pacific Coast Highway continued.




We stopped to see Elephant Seals.




They were fun to watch. They were just laying there, then all of the sudden they would start crying out and one would take off. I wish I would have had a video camera with me. Pictures don't do it justice.




We continued up the coast.




This was the car we rented. I'm not going to bore you with ALL the photos I took along the way. You get to a point on the highway that it is either turn back or go for 75-100 miles with no place get off. We ended up driving all the way to Carmel by the Sea. We got there in time for the sunset.




We realized that we had over 300 miles to travel back to LA, so opted for a quick meal and headed back by a faster route. When I think of California, I think of heavily populated areas. While there are plenty of those, we drove through a lot of sparsely populated, agricultural areas. We arrived back in LA at midnight. We had previously booked a hotel close to the airport. My flight was to leave at 9 am and Ed's left at 1:30 pm. I actually got bumped and earned some dollars to apply to a future trip. I had a four hour layover in Phoenix, so I got to watch the whole Colts game. We both arrived in Indy around 10:30 pm last night. Nicole graciously picked us up.

The one day of beautiful weather winding along the coast gave us a whole different perspective of our trip to California. We saw some absolutely beautiful areas! So a great trip was had by all.

And back to reality - it snowed today!